More Mermaid Myth Trivia!
The myth of Atargatis evolved over time into that of Ashtarte, also a Syrian Goddess, and it believed to be the counterpart to Aphrodite. Oh you're bursting to say that Aphrodite is the wrong choice. Afterall she's not represented in fish form. Think again. Remember the myth of Pisces or the counterpart in Syrian mythology where "Ikthyes" or "Ichthyes" are the two fish rescuers of Aphrodite and and her son, Eros.
And yet in another myth, a large egg is transported up the Euphrates river by two fish. This time the fish are Aphros and Bythos, and they delivered the egg to the shore of the river, helping it hatch. Voila, inside was none other than Ashtarte (remember the Syrian counterpart of Aphrodite). Aphrodite was born out of sea foam and is seen in countless depictions in repose on a half-shell.
I love that myths, fables, and fairy tales have counterparts in other cultures. These stories provide a framework in which women and men contemplate life. So much that, (I don't know if it is true that it is this myth that is responsible) but in Syrian culture, fish is not eaten to a great extent.
I love stretching so here goes...
What can we make of references for the fish symbol in Christianity.
The acrostic use of Greek letters sounded like ICHTUS for "Jesus Christ, God's Son, Savior." And Jesus proclaim his disciples were the fishers of men. The fish is a powerful symbol through the ages.

So now you know a little bit more about mermaid myths and surrounding stories. Where the stories arose and how mythology and symbols can influence culture.
In the next post, we'll look at more mermaid myths and especially, who was Atargatis's consort. Mermaids are portrayed as stunning creatures, but make no mistake they are as varied as the oceans in which they inhabit. The good, the bad, and truly wrong doers exist. So watch out, beauty is definitely in the eye of the beholder with these lovelies.
Atargatis

: Atargatis, in Aramaic 'Atar'atah, was a

Syrian

deity, "the great mistress of the North Syrian lands."

Ashtarte:

Early Syrian Dea, mother to over 70 gods and goddess.

Aphrodite:

Beauty, love, pleasure, and procreation are her attributes as one of the greatest Olympians.

Eros:

Rascally companion to Aphrodite. He was present at her birth and some believe Eros came directly from her being.
Princeton University

references.
Gods and Monsters
Who's Who of World of Mythology
Theoi Project
Hey, now it's time to discuss prizes.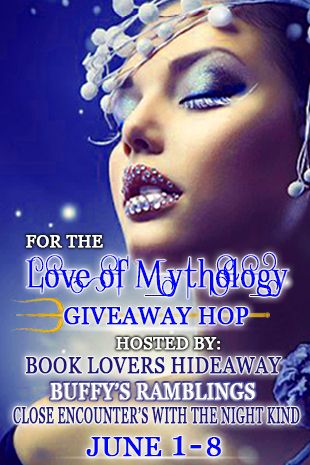 I'm giving away on this hop site one $5.00 Amazon Gift Card to a randomly winner. All I need is your email address in a comment below.
And that's not all. See the Grand Prize and other donated gifts that our lovely hostesses have put together for you below.
We will be having a grand prize so far consisting of...
$50 Amazon GC or $50 worth of books at TBD.
ebooks from Patricia Bates
a prize from Lisa Beth Darling
Rosanna Leo wants to donate Sunburn
Danica Avet : Ain't No Bull
Sheri Fredricks: Remedy Maker!!
An ecopy of Mything You by Greta Buckle
an ebook by Tmonique Stephens
An ecopy of Death Blow by Jianne Carlo
Remember to leave a comment with your correct email address.
If you're intrigued by mermaids and love H-O-T romance,
here's a little tasty tease from Ocean of Love
a mermaid fantasy love story.
- Excerpt-
Marissa peered toward the beach, taking in the shimmering, blue-green water. A mesmerizing, high-pitched hymn unfolded. Wyatt wouldn't be able to hear song tossed about by the waves. She listened, transfixed until the cold edge of fear, prickly as seaweed wrapped around her.
"The ocean…" she stammered. "It's strange. I don't come down here that much. Odd, considering the type of property we deal with."
She couldn't just tell him.
See, she was nervous, well downright scared to death that somehow she'd get wet and turn into a…a
… She couldn't even finish the thought.
Wyatt stared at her, but he wasn't gazing at her face. He studied her chest. His expression made her forget her fear.
"Man, what a rarity. Are those real?"
Frozen, she gaped at him. South Beach was vested with an aura of tell-all, as if nude sunbathing equaled a need to be forthright. Did men from where he hailed speak openly about body parts? She flinched not knowing what he was referring to until his fingers gingerly picked up the pendants she wore around her neck.
"Those are beautiful."
"Come again?" She choked back indignation.
His fingers trailed over her skin before he tugged the chain around her neck. "Some museum pieces? May I?"
An innocent mistake. Of course he wasn't talking about her breasts.
"This is antique gold," he murmured, squinting down at her necklace.
"A stack of stamped coins, one on top of another. A couple hundred years old, or so I've been told."
Darn, Wyatt had snuck within her physical comfort zone, past the point where she should have reared back. Marissa had no choice and waited, every one of her nerves stretched taut. She caught herself admiring his dark chest hair on display between the unbuttoned collar of his shirt and hastily looked away.
He spoke as if he were talking to himself. "Appears as if the rubies are embedded from years of being underwater. This is something from a shipwreck rescue isn't it?"
The distinct urge to bury her face into his shoulder held her in a tug-o-war. He raised his face connecting with her gaze, expectation of a response in the arch of his brow. There was no way to adequately describe her necklace. A gift from her mother and a treasure she'd had for years. Wyatt had a way of unlocking her vault of feelings. The memory had Marissa coming undone as she furiously blinked back tears. A tide of emotions lodged in her throat. She stepped back, far enough to make him release her necklace.
"A family heirloom," she said, facing away from him while the breeze lapped at her face. She wiped away pooling tears, pretending to fix strands of her hair floating in the wind.
#1 in April 2013, bestseller for fantasy romance, and now on sale at
Amazon.com