Myths capture the heart in explaining human behavior. From the past we're delivered into a realm both human and magical, a surreal existence explaining where mankind originated and the power and influence of immortals behind our existence.
One of my favorite themes in mythology the creation of love.
Whether Gods, goddesses, or mortals, the ability to love has always intrigued me, especially when there are powers transmuting our mere mortal existence.
Mermaid mythology is my favorite having come from Miami and spent my life near the ocean.
So for the next week, we'll dive into the world of mermaids starting with Atargatis, a Syrian Goddess of fertility and protection. This myth appeared between 700 - 1000 b.c.
Hey, now it's time to discuss prizes.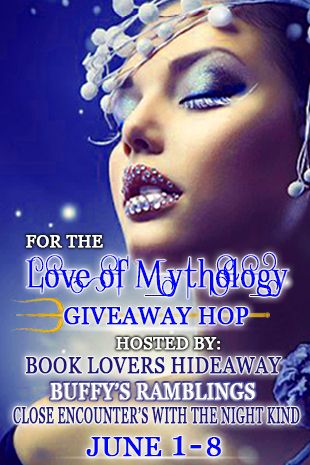 I'm giving away on this hop site one $5.00 Amazon Gift Card to a randomly winner. All I need is your email address in a comment below.
And that's not all. See the Grand Prize and other donated gifts that our lovely hostesses have put together for you below.
We will be having a grand prize so far consisting of...
$50 Amazon GC or $50 worth of books at TBD.
ebooks from Patricia Bates
a prize from Lisa Beth Darling
Rosanna Leo wants to donate Sunburn
Danica Avet : Ain't No Bull
Sheri Fredricks: Remedy Maker!!
An ecopy of Mything You by Greta Buckle
an ebook by Tmonique Stephens
An ecopy of Death Blow by Jianne Carlo
Remember to leave a comment with your correct email address.
Mermaid Erotic Love Story Amazon Bestseller #1 Fantasy Romance in March and April
~Excerpt~
She cleared her throat, hoping her voice leveled out. "The site is utterly stunning, wouldn't you agree Mr. Herndon…Wyatt?"
His steely gaze seemed to contemplate what she'd uttered. How in the heck had she become head realtor of this deal? She stared at her emergency sack, folded and tucked by the side of her seat. She doubted shoving the brown paper bag against her face would fill her newest client with much confidence in her abilities. She put the thought away and sucked in a deep,slow breath.

The man's shadow fell over her as he bent down. She peered up into his face and her breath caught in her throat. Something in his manner exacerbated her hunger for hot, mind-blowing sex.

"Are you going togive me a tour from the front seat of your car?" He chuckled. "I promise not to bite." The corners of his mouth curled secretively, and then he whispered almost beyond earshot. "
Too hard
."

She stared at him opened-mouthed. "Excuse me?"

"Nothing. Just wondering if you're planning on exiting your vehicle in the near future?"

"I'm just getting my camera and phone. You should be enjoying the view."

"Trust me, from this vantage point, I am. The sights are more than alluring."





What was he talking about? His gaze hadn't left her face or body. Her fingers trembled, knowing he waited to trek over the sugary sand toward the water's edge. Hazardous for her given the lunar timing. She was coming undone alright. Her spine snapped to attention as a pulling sensation stretched across her skin in all directions. She scratched her neck, fighting the urge to rub her back against the seat.





The skin under her waistband burned from unseen etchings. If she pushed down her skirt, she'd find faint ridges of topical scales appearing over her skin. Same sequence every month, minus one tempting man-candy-client. She imagined tasting Wyatt's lickable body.