Post #3 Mermaid in search of God. Enter her consort. Think beard, bull, and Ba'al.
Atargatis as we know is a Syrian goddess who appears as part fish-bodied and may play an important role in why fish are regarded as sacred in Syria. Atargatis, goddess of creation and a protectress of the people, was depicted with flowing hair and had several temples and followers around the first century. Frequently devotees disfigured themselves. Ouch! Symbols associated with Atargatis are the lion (see the coin), crescent moon, and two fish (Pisces discussed in Post #2). Also, doves and scepters. Love and weaponry…go figure. In ancient Greece she was referred to as Aphrodite Derceto and by the Romans as Dea Syria or Goddess of Syria. Some shortened her name to Deasura.
Now, this is all about the Love of Mythology and so we must have love in our story. Atargatis indeed has several instances of being linked to love. Her consort is Hadad, the bearded god associated with the bull as well as rain and storms. Can you image what a fiery romance that could make? If I had to cast Hollywood glamour pusses I'd pick Hugh Jackson as Hadad and Blake Lively as Atargatis. Side note: Hadad also referred to a Ba'al, and his power was equivalent to the great Olympians. And yes, he'd referenced to in the Bible.
Another trivia snippet: Atargatis is attributed to Derceto, a high priestess who fell in love with a shepherd and became pregnant. Out of shame, she plunged herself into the sea but because of her great beauty, she was changed to part fish while retaining the upper torso and head of her human body.
Atargatis had several temples throughout Syria in which sacred ponds were built and prohibited from contact except by her priests or Dervishes. Up to the 1930's there were still sacred ponds in Lebanon.
So far, I've put together some visuals and research on Mermaid Mythology this immensely captivating subject of sea nymphs for the sequel to Ocean of Love.
New Players:
Hadad:

aka Ba'al. God who dictated weather as
well as kept the land fertile or not with drought.
Derceto:
Goddess with a temple and Priestess in
in Ephesus
Dervish:

Priest or devout follower, pious and lead
an ascetics life.
Thanks to
Jewish Encyclopedia
Hey, now it's time to discuss prizes.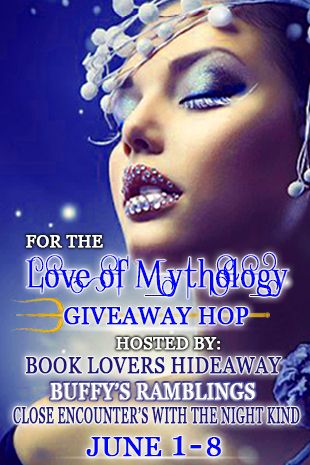 I'm giving away on this hop site one $5.00 Amazon Gift Card to a randomly winner. All I need is your email address in a comment below.
And that's not all. See the Grand Prize and other donated gifts that our lovely hostesses have put together for you below.
We will be having a grand prize so far consisting of...
$50 Amazon GC or $50 worth of books at TBD.
ebooks from Patricia Bates
a prize from Lisa Beth Darling
Rosanna Leo wants to donate Sunburn
Danica Avet : Ain't No Bull
Sheri Fredricks: Remedy Maker!!
An ecopy of Mything You by Greta Buckle
an ebook by Tmonique Stephens
An ecopy of Death Blow by Jianne Carlo
Remember to leave a comment with your correct email address.